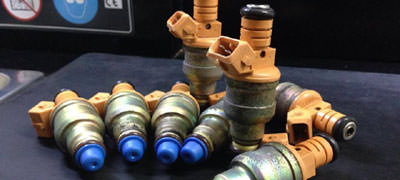 CLEANING & DYNAMIC FLOW TESTING
Our service consists of measuring the flow, OHM resistance, fuel spray, and performance of each fuel injector under various strenuous duty cycles. We use advanced technology and own equipment and machines capable of testing new injectors such as the GDI and the HPI.
Read more: Fuel Injection Solutions.
MARINE FUEL INJECTORS
Restore the power and performance of your boat's marine engine. The method we use to recuperate the fuel injector's performance is ultrasonic cleaning. Some of the marine fuel injectors that we give maintenance to are: the Yamaha, Honda, Suzuki, Mercury Verado, Evinrude ETEC, Volvo Penta and Mercruiser. See more: Marine Fuel Injectors.
FUEL INJECTOR KITS
We are pioneers in the manufacturing and development of fuel injector service kits and have a registered brand. We offer a wide variety of high quality fuel injector components and currently have fuel injector service KITS for more than 108 vehicles. Our service Kits are manufactured and packaged in the United States and are shipped to other countries from Miami, Florida.